4 Hour Introductory Course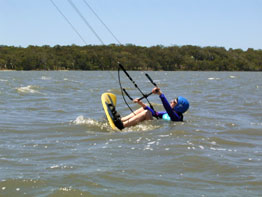 Kitesurf Noosa offers a fully comprehensive training program:
International Kitesurfing Organization certification available
Qualified, experienced instructors
Support Jet Ski with full safety equipment onboard
Headzone communication helmets
Safe teaching environments
Large range of equipment
Fast tracking for people with prior experience in related sports
All equipment included
Min age 18 years
Kitesurf Training Syllabus:
Level 1: Beginners ( appr. 2 to 4 hours)
Weather briefing
Evaluating site
Kite theory, understanding wind window
Safety procedures
Set up, 2-line kite, preflight check
Launching kites, instructor demonstrates
Flying kite in neutral zone
Landing kite
Launching kite, hands on
Flying kite in power zone
Hooking into harness
Flying one handed
Self rescue
Pack up, winding lines & care of kites
Level 2: Beginners/Intermediate (appr. 2 to 4 hours)
Set-up 2 line kite and demonstrate kite skills if necessary
4-line kite theory Set-up of 4-line kites, preflight check
Briefing on safety
Adjusting technique for 4 lines
Launching 4-line kites
Self rescue
Body dragging, cross and up-wind
Briefing on rules and basic courtesy on the water
Water start and basic board skills
Pack up, winding lines (4-line bar)
Level 3: Intermediate, Advanced (appr. 2 to 4 hours)
At this stage students will need to demonstrate a high level of self- sufficiency. Choosing the right size kite, evaluation of conditions and site, choosing an area that is a safe distance from other water users and clear of obstacles and turbulent air.
Student briefing and feedback
Body dragging upwind for board recovery
Going upwind
Methods of flying to de-power kite
Change of direction
First jump, woo hoo !!