Locations
Whitsundays

Great Keppel Island
Beginners through to hard core kiters can enjoy the many excellent kitesurf locations in and around Noosa. We have two very large lakes, long stretches of surf beaches, and of course, the world famous Noosa river mouth.
Sunshine Coast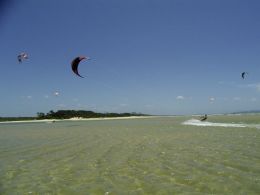 Noosa River Mouth
When it's on at the river mouth it's one of the most awesome places you'll ever kite. The most consistent times of year are from September through to February.
Noosa River mouth takes winds from North to East, North east being ideal. You also need to have an outgoing tide. Most of the mouth is quite shallow, so take care when jumping. Most of the time the surf on the outside is not too big but, be aware, that it can get nasty. With a strong tide you can end up being sucked out into it if you drop your kite. Also, please give way to any boats on the river. It is a restricted waterway and boats have right of way. Also note that the main beach is out of bounds for kiteboarders.
How to get there? Turn left into Hasting street and go through the forest to the end car park.
View Larger Map
Lake Weyba
Lake Weyba is situated 10 minutes out of Noosa. Follow the signs out of Noosa to Eumundi 3 km out of the industrial area of Noosa, turn left onto the Sunshine coast motorway, go 600 meters and turn left into Eumarella road and follow it to the lake. Turn right and go to the end where you will see the set up area and picnic grounds.
View Larger Map
The lake is very shallow close into shore and surrounded by trees. It is best to have a friend to help with launching. 
A word of advice, do not to jump too close to shore, take your time and work your way out. The wind is more consistent the further you get from shore.
Sunshine Beach, Coolum Beach
Kiteing on the open beaches is not suited for beginner kiters. It takes winds from the north through to south. This stretch of beach is about 20 km. There is a pretty dedicated local crew who regularly get together for downwind runs.
If you see flags on the beach it means it is a patrolled area, if you can't go around by at least 400 meters then come ashore, let the lifeguards know that you want to walk through and do so with care.
Lake Cootharaba
Takes anywhere from north east to southerly winds. Lake Cootharaba is situated approximately 20 min's drive from Noosa .There is 25 square km of mostly flat, shallow, water. Like Lake Weyba, avoid jumping close to shore.
Rainbow Beach
Rainbow Beach itself is not an ideal place to kite, in saying that there are 2 excellent locations to kite.
Double Island Point
Located 14 km to the east. Access is via 4wd straight up the beach. It takes winds from the north to north east. This place "goes off" in the right conditions. Small waves and flat water in between the waves, makes it perfect for jumping and wave riding.
Inskip Point
Situated 20 km to the west of Rainbow Beach. It takes pretty much any wind direction. It is a great place to kite but take your time to check the place out. In certain wind directions it is quite easy to get blown offshore into the middle of the bays. Ideally it would be best to have a rescue boat on hand, just in case. Otherwise it is another great place to kite with beautiful flat water.